Welcome to The Wild Dolphin Project
The Wild Dolphin Project is a non-profit scientific research organization that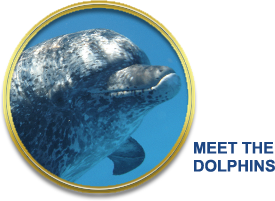 studies and reports on a specific pod of free ranging Atlantic spotted dolphins (Stenella frontalis). Since 1985, Denise Herzing has been studying dolphin communication in the wild. Objectives of this long-term, non-invasive field research on wild dolphins are to gather information on the natural history of these dolphins, including dolphin behaviors, social structure, dolphin communication, and habitat; and to report what we have learned to the scientific community and the general public.
Like us on Facebook!
Click here to visit our Facebook page
2016 Field Season Trip Dates and Prices have been released!
2016 marks our 32nd year in the field. We are looking forward to another successful season continuing our work studying and observing the Atlantic bottlenose and spotted dolphins in the wild. Please visit our page here for more information.  Spaces are filling quickly so contact us today!
Recent Event: Dr. Herzing & Dr. Starner gave an update in Atlanta in October 2015 regarding our dolphin communication work!

A warm thank you to everyone that joined us in Atlanta for an exciting update on our dolphin communication work!  This event was held Tuesday, October 20, 2015 at 6:00 PM, you can watch it below:
For more information about the Dolphin Communication work, visit our CHAT Research page.
National Geographic Magazine – May 2015 Issue
Read the NEW National Geographic Magazine article on dolphins titled, "It's Time For A Conversation", which was released April 15, 2015, featuring Dr. Denise Herzing and the Wild Dolphin Project.  You can also read National Geographic's September 1992 Issue with the Wild Dolphin Project and Brian Skerry's Blog while he was on board R/V Stenella in 2013.  For Media Inquiries regarding these articles or the CHAT system, please email media@wilddolphinproject.org.
CHAT Research
Read more about the CHAT Research.

Dolphin Decoding/Communication
Read more about our effort to decode the dolphin's natural communication signals.

Be Part of the Future:  Decoding and Deciphering Dolphins: Join The CHAT Society!
Read more about how you can help our CHAT & dolphin decoding research.

Dr. Herzing's TED Talk – Over 1 Million Views!!!
Watch Dr. Herzing's TED Talk regarding Dolphin Communication, which currently has over 1 million views!  To read more about the research, you can purchase Dr. Herzing's book, "Dolphin Diaries".

Donate Today!
Interested in donating toward the project and our research? Visit the Membership page for more information on member levels and associated perks. You can make a difference!  We also have a PDF with all of the benefits listed for each membership level.